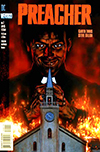 Episode 100 of Trade Secrets is now available! On our FINAL EPISODE, the TSP crew discusses the danger of slavish devotion to characters, the past five years of podcasts, and Garth Ennis & Steve Dillon's seminal Vertigo book PREACHER!
The Trade Secrets Podcast crew would like to thank all of our listeners and guests for participating in the show over the last (almost) five years. This has been an incredible ride for all of us, and we're glad to have been able to entertain you for so long. Feel free to post your thoughts for the crew on Twitter, Facebook, or e-mail us at tradesecrets@geekerific.com.
Subscribe to the show on iTunes or by clicking on the feed to the right, or download this individual episode HERE!