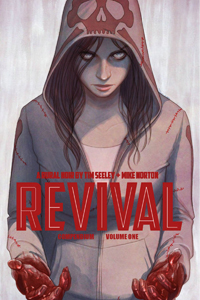 I just received my copy of the Revival Deluxe Edition hardcover in the mail, and it has let me to this major conclusion: this is the perfect way to read comics.
Now, when I say "perfect", of course I mean "perfect for me". Other people have other tastes, like floppies or digital or Absolute editions. But for me, Image Comics has pretty much hit the nail on the head with their standard hardcover book design. What are the elements that make these books perfect?
Ten to twelve Issues. This is a perfect number. Most modern comic books run in 5-6 issue story arcs nowadays, especially at non-Big-2 companies like Image and Oni. A 12-issue hardcover trade usually covers two story arcs, roughly a year of the book. It's a perfect slice for a day or two of reading, and makes it easy to have an annual release schedule for hardcovers. Image's books bear this out with long-running series like The Walking Dead and Invincible.
No dustjackets. I'm an outspoken opponent of dustjackets on pretty much any book. Ostensibly, they're designed to "protect" the underlying book by taking damage in lieu of the actual cover. That's totally fine if I'm in 5th grade and my dustjackets are hand-made from a grocery bag. But from a collector's standpoint, the dustjackets are just another component that contributes to the overall condition and can become damaged, and much more easily than the actual hardcover of a trade. On top of that, it they're awkward and cumbersome when trying to read, so I end up just taking them off when reading anyway. If the dustjacket was supposed to protect against fingerprints, the purpose is already defeated. TL;DR version: fuck dustjackets.
Consistent spine and cover design. I cannot stress enough how important this is for OCD comic book collectors like me. When I've shelved a long-running series, I absolutely Can. Not. Stand. when the spine design changes. It looks so damned sloppy. Marvel and DC are terrible culprits in the inconsistent spine design arena. Image, on the other hand, has kept the cover design and spine design for long-running series identical, even if it might not be the best (as is the case with Invincible). And that's all that matters to me. I don't give a flying fuck if the newer covers are more appealing to focus groups or fit some change of theme – just keep them the same.
$30 to $35 cover price. What a spectacular price for what you get. The overall price of the trade ends up being cheaper than floppies, and in return you get (in my opinion) more value in a sturdy, looks-awesome-on-a-bookshelf hardcover. I don't have to bag-and-board it, and they're more durable than most softcover trades (I find a lot of softcovers to have less-than-stellar quality control). Most hardcovers of this size fall into this price point, with a few exceptions like the 100 Bullets Deluxe Editions, which clocked in at $50 a pop. Marvel seems to have moved toward releasing 5-6 issue hardcovers (like All-New X-Men) for $25. Half the content for 85% of the price? Yeowch. And yes, I know they're cheaper on Amazon, but we're discussing SRP's here.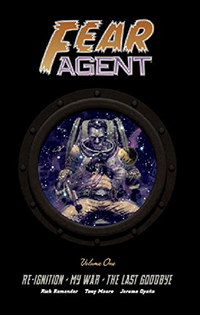 All of these factors lead to my perfect reading conditions. Twelve issue hardcovers are easy to handle and read, unlike Absolute editions or Omnibi. While I absolutely LOVE the production design on books like my Fear Agent Library Editions or The Sixth Gun Gunslinger Edition, their sheer size does make them a bit hard to handle. The lack of dustjackets means I get a beautifully designed cover (the cover on this Revival book is *fantastic*) without the pain-in-the-ass of having to fumble with or outright remove an annoying wrapper. And at these prices, why would I want to pay $40 to $48 for the floppies, or even similar prices for softcovers, especially when even my comic shop gives a decent discount off of cover on trades?
Image just nails it. Other companies have followed suit in design, but not in price: IDW's collection of The Cape looked spectacular, but was $50; the same goes for Icon's Criminal collections. I wish that everyone would adopt the same size, style, and price as Image's hardcover collections, because if they did, I would never read comics any other way.