Yet again I've been lax in my supposed "weekly" pulls article. I don't really have any excuse, and can only apologize and vow to do better. I have pretty terrible timing for returning to it, as well, considering that literally nothing I subscribe to comes out this week. Out of 20+ books I collect every month, not one of them comes out this week. Which means, I guess, that next week will be HUGE.
Luckily, this doesn't mean I don't have recommendations. The books that would normally go in my "Honorable Mentions" section will just shift to being this week's focus. So first, I'd like to talk about…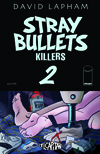 Stray Bullets: The Killers #2. Full disclosure: I knew nothing about Stray Bullets prior to its re-launch. With all the hype surrounding it, and several friends recommending it, I bought the Uber Alles Edition sight-unseen. And let me tell you, it's worth the hype. One of the best, and most influential, crime books around, I wholeheartedly recommend getting into The Killers while it's young, and picking up the previous run of Stray Bullets however you can.
Sex Criminals Vol 1: One Weird Trick. What a fantastic book Sex Criminals is, as evidenced by my review of issue #1. A hilarious premise perfectly executed results in one of the funniest, and simultaneously most heartwarming, books on the stands. If you haven't been reading this in singles, first off what the hell, and secondly go pick up this trade immediately.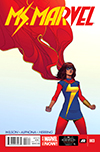 Ms. Marvel #3. Now, I'm not normally one to recommend Big 2 books, as I'm sure you know. After reading the first issue of G. Willow Wilson's new Ms. Marvel book, though, I can't help but recommend it. The comics world – especially the Big 2 – needs more books that center around non-white, non-male protagonists. Ms. Marvel does so brilliantly, and hits all the right notes in the process. Everyone should check it out.
Honorable Mentions: Stray Bullets: The Killers #2, Sex Criminals TP Vol 1: One Weird Trick, and Ms. Marvel #3
Luke's Picks for April 17th, 2014: Ummm…