I grew up in the Pacific Northwest. My exposure to the rest of the United States has been limited, mostly to vacations and short road trips. I've spent my entire life in Oregon and Washington, so I am keenly attuned to the quirks and flow of Northwest life. It's a strange little place.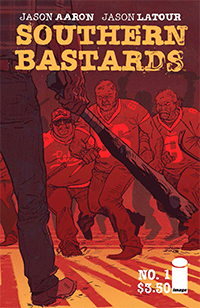 Almost all of my exposure to life in the deep South comes from fiction and media. I don't have a lot of friends from there, and even my family primarily comes from the Midwest, although my dad spent a lot of time in New Mexico (New Mexico is it's own, oddball world, though). The vast majority of southern fiction depicts a strange place, simultaneously intricately woven into the core American landscape and yet fundamentally separated from it. It's a place of bible-thumpers and redneck gun-nuts and croc wrestlers and high-school football and barbecue. A place that rumbles a primal fear in as many people as romanticize it.
A place that the two Jasons – Aaron and Latour – are intimately familiar with.
That familiarity oozes into the atmosphere of their new Image book Southern Bastards. The story of Earl Tubb's return to his home in Craw County, Alabama after forty years away bleeds that atmosphere, that knowledge, from every word bubble and every line. Aaron doesn't hit you over the head with over-the-top vernacular, instead just sprinkling in the flavor of everyday speech – a man that still calls his father "daddy"; a waitress who calls her customer "hon". It's nice to see a depiction of rural southern speech that isn't a caricature; the same deep yokel-speak that's peppered through a lot of fiction set there.
Latour uses a deft touch in representing Craw County in a way that makes it feel unique. Much like the dialogue, there's just enough flavor to show us the environment without feeling like a pastiche: a post-clock across from the brick facades of the town's main street; the wood-panel siding surrounding the order window at the local barbecue joint; the muted greens and browns of a countryside that looks decidedly unfamiliar to someone like me, a born-and-bred Pacific Northwesterner.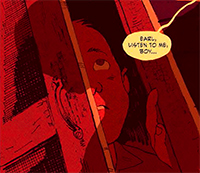 Earl's homecoming is an uncomfortable one, a man returning to the place he'd grown up, now as much outsider as native. It's a theme Jason Aaron is comfortable with, having honed his voice on his Eisner-nominated series Scalped. He pulls from that same well to give Southern Bastards it's tension, the tightening-noose feeling of a man who just has a simple thing to do in a place he never wanted to be getting dragged into a situation he should've avoided all along.
Earl Tubb is part Ed Tom Bell, part Buford Pusser, and if this first issue tells us anything, it's that things are going to get a lot worse for him before they get better. Aaron's trademark slow-burn tension is well complimented by Latour's oppressive, almost claustrophobic atmosphere. In the few words that Earl Tubb utters during this first issue he's somehow already endeared to us, with such economy and subtlety that, by the time the issue is over, the hooks are set deep.
I have a lot of faith in Aaron's storytelling capabilities. And, I'll say it: I think his collaboration with Jason Latour has the makings of an even better partnership than what he had with R.M. Guerra. If you're looking for a fine piece of Southern noir, and something completely different from any other book you're reading right now, go pick up Southern Bastards.