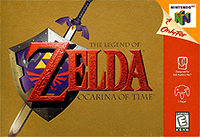 On our FINAL episode, the ATFP crew discusses the pitfalls and successes of video game Kickstarters, reminisces about 4 years of After The Fact, and talks about one of the best adventure games of all time, The Legend of Zelda: Ocarina of Time!
This is After The Fact's final show! Almost four years of shows and we're bringing it all to a close. The crew would like to extend a sincere, heartfelt Thank You to all of our fans over the years for putting up with the shaky early years and sticking with us. We thing we've delivered a great show that has a lot of re-listenability (is that a word?), and we hope you guys have enjoyed it too. We'll all miss the show, and hopefully we'll see you guys around.
The entire run of After The Fact – including all of the Shorts and Bonus Stages – will remain in the archives available on the website or via iTunes. While we will likely be taking down the Facebook page for the show, the Twitter account (Twitter) and e-mail address (AfterTheFact@Geekerific.com!) will remain active if you guys want to contact us or talk about our final episode.
You can subscribe to the podcast on iTunes and the Zune Marketplace, you can subscribe directly by clicking the feed on the right, or you can download this individual episode HERE!