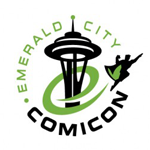 Trade Secrets Emerald City Comicon interview #5 is now available! Andy and Luke talk with one of their favorite writers in comics, Chew creator John Layman!
Editor's Note: Mr. Layman's volume was extremely low in this recording, so we made our best attempt to amplify him. You may notice several jumps in volume during the interview – these are intentional.
Subscribe to the show on iTunes and Zune, by clicking on the feed to the right, or download this individual episode HERE!